George Samuel:
George has been supported in his last years of primary education by Mr Henk who recently founded Keti Utulie foundation.
This November we are happy to report that George has successfully completed his primary school education and he sat for his final exams(Kenya Certificate of Primary Education-KCPE).
The final results will be out in Late December and George will be looking forward to join High school.
This is indeed a great achievement and George and his family are so thankful for all who have supported him.
George's younger sister (Rosa Samuel) also sat this exam at the same time.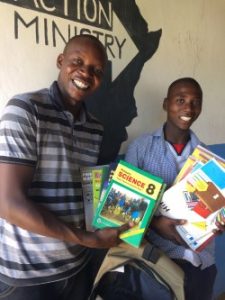 Riziki is the girl from the Leprosy families that have been sponsored in her first year by Mr Henk Tennekes through the stools he makes and sells.
Its a great news that she has successfully finished her first year of High School and will be joining Form 2 in the new year.
Thanks to Mr Henk,his friends and clients and everyone who have supported and continue to support this initiative,God bless Ketie Utulie Foundation.
Neema, het meisje dat al 5 jaar op onze kosten naar een gewone school gaat, heeft ook dit jaar weer hele goede resultaten behaald. De update van de resultaten van de kinderen volgen in december.